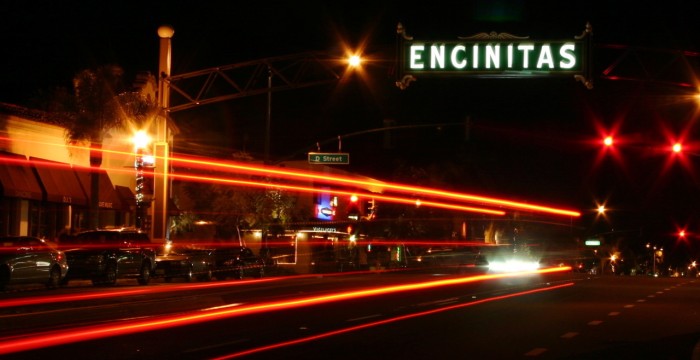 Encinitas
Encinitas is located in North San Diego County, the southernmost county in the Western United States. With six miles of rugged coastline and 21.5 square miles of land, Encinitas enjoys ocean views and a great surfing culture from San Elijo Lagoon on the southern end of this surfer's paradise to Batiquitos Lagoon to the north.
Did someone say surfing? That would aptly describe the best aspect of this city's charm. Surfing looms large in a town with beautifully carved wood signs announcing the names of famous surfing beaches such as Grandview, Leucadia, D Street and Moonlight Beach. It's as if each beach has its own personality, its own community and family of surfers who clearly own this spot of the coast with their passion as stewards for the beach, on the daily battle ground of surfing those wave sets that  roll in from Hawaii to the west. With road signs seen in a photo above of surfer girl carrying a board on her head, its clear that cars must stop for surfers.
Surfing and beaches are one major attraction in this laid back beach town with a long and esteemed history of great surfing and skilled surfers. In addition to those in the water, the surf culture is an attraction for the "old guys who rule" as they drive along Coast Highway in their classic cars, bringing their woods, or woodies to Moonlight Beach for an annual woody meet. Sometimes it can be cool and foggy, but most days of the year, expect sunshine and a happy face as you arrive in Encinitas. We recommend your first be the beach when you get to the city on Coast Highway, or exit Interstate 5, also known as San Diego Freeway, where the road signs say Encinitas.
If you come in from the Interstate, you can always make your first stop the Quail Botanical Gardens. An urban oasis of shrubs, trees, and native plants, who could believe that just off that ribbon of highway you'd find this secluded, cool forest of green? Worth a good hour or two of wandering, not only does this garden attraction offer tours and special lectures and events, it also has a gift shop where you can buy something unique for your collection. Admission fee to the garden is affordable, and is worth the price.
Encinitas got its name from Encina Canada, Spanish for "hills of live oaks," which describes what Gaspar de Portola saw in 1769 when he led an expedition through the region. The Spanish Governor of Baja California hoped to create a stronghold in California and did so until Mexico laid claim on the land in the 1800s. That reign was short lived and California became a state of the United States in 1850.
From an 1800′s gold rush in nearby Julian to the arrival of celebrities such as Charlie Chaplin in the early 1900′s, at least two establishments offer glimpses into the rich Encinitas past. Visit the San Dieguito Historical Museum to learn about Indian tribes that once dominated the region. Or sit in the historic La Paloma Theatre (possibly the first 'talking' theatre in the rural United States when it opened its doors in 1928) to watch a current movie.
Beaches, flowers, peace and love welcome you to Encinitas. IBM, teeing off for golf and a Starbucks latte in a plastic cup might greet you, as well. Encinitas is a place where diversity rules and is celebrated daily. When the communities of Leucadia, Cardiff-by-the-Sea, Olivenhain and old and new Encinitas incorporated together as the City of Encinitas in 1986, their union on paper did not mean that each would give up its identity and character.
Apart from the other communities mentioned, even Encinitas appears to contain separate entities unto itself. There's an established district with beaches and shady, tree-lined streets located on Historic 101. Cute flags with pink butterflies welcome guests and give the impression of a happy, old-fashioned place where businesses such as Encinitas Surfboards have plied their craft since 1975. With an average annual temperature of 72 degrees and sunshine nearly every day, life feels great, no matter what you do in Encinitas.
In stark contrast, prepare for a time warp with new plazas, tract housing and a bridge where carts from Encinitas Ranch Golf Course pass over the fast moving, stoplight-driven El Camino Real. From the opulent Self Realization Retreat and Hermitage where world travelers come to meditate and look out over the Pacific Ocean, to the neighborly Moonlight Beach, where lovers look out at the same ocean and snuggle, cheek to cheek, life is beach after beach in Encinitas.
If you want waves, Swami's the place. It is located at the southern end of Encinitas and offers world-class surfing. If you want to take off your clothes and soak up rays, The Boneyard at 4th and D Streets is a spot where you can do that. .. Activities for visitors include shopping, eating, sunbathing, swimming, surfing, museums and galleries, meditation and enlightenment and flower power. Once recognized as "the flower capital of the world," and spot where the renowned Ecke poinsettia was introduced in 1923, drop by one of the commercial nurseries open to the public and purchase a traditional poinsettia or be the first on your block with one of the new release plants. (Poinsettias grow rapidly in southern California and the innocent holiday bouquet planted in a yard can take off unexpectedly and become a tree.) Speaking of trees, Quail Botanical Garden claims it has the largest bamboo collection in the US. It is considered one of the best gardens in San Diego County and well worth a small admission fee charged.
Public Transportation: Amtrak and Coaster commuter train from Oceanside to San Diego. Train station in Old Encinitas. North County Transit District. Lindbergh Airport in San Diego. McClellan/Palomar Airport in Carlsbad.
Golf courses: Encinitas Ranch Public Golf Course, Aviara Golf Course in Carlsbad, and La Costa Resort in Carlsbad.