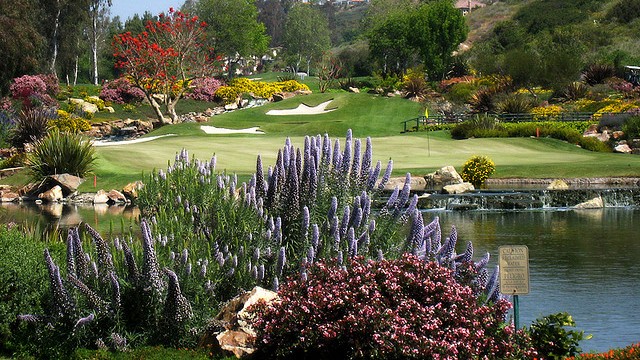 Aviara
Aviara is a resort neighborhood in the southern part of Carlsbad, located in San Diego County, California. The community is approximately 30 minutes from the downtown portion of the city of San Diego. In 1989 the community was developed and later incorporated into nearby Carlsbad.
The community is set in the hills of South Carlsbad, overlooking the Pacific Ocean and Batiquitos Lagoon. Aviara is just north of Encinitas and west of La Costa. The community is mostly residential except for the Park Hyatt Resort (formerly the Four Seasons Resort) and Aviara golf and country club. In the annual Forbes magazine ranking of "Most Expensive Zip Codes" in the U.S., Aviara's 92011 Zip code ranked among some of the most expensive in the nation. Many properties command views of the ocean, Batiquitos Lagoon, and Aviara golf course. The community is noted for its abundance of jacaranda trees that line many of the streets.
During 2008, Aviara was the only community in San Diego County not affected by the housing crisis.
To preserve quality of life, the community council has numerous stringent ordinances, including laws against dead lawns, architectural styles, permanent basketball hoops and courts, satellite dishes and exterior paint colors. It is also a violation to leave trashcans on the street or in public view. With the exception of one community, Mirabella, multi-family housing is not permitted.
Residents who wish to improve, add-on, or make further construction changes to their homes must undergo a strict and lengthy process that includes a community hearing, submitted proposal, and consent among all neighbors. The plans must be approved by the community in order for construction to begin. At times, residents can be denied construction rights by the city if their plan does not satisfy architectural or landscaping requirements.