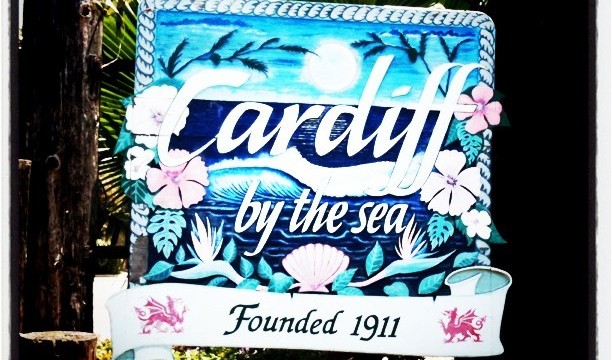 Cardiff by The Sea
Cardiff-by-the-Sea, usually referred to as Cardiff, is a beach community located between Encinitas and Solana Beach in San Diego County, California. The Pacific Ocean is to the west of Cardiff, Encinitas on its east and north, and a beach and lagoon on its south. With a population of under 12,000, Cardiff-by-the-Sea operates as part of the city of Encinitas, but has its own ZIP code (92007), unlike the other communities that comprise parts of Encinitas: Leucadia and Olivenhain.
In 1911, this former farming community began to develop Cardiff, when developer J. Frank Cullen broke ground to build new homes. It is reported by the Cardiff Chamber of Commerce that it was Frank Cullen's wife, a native of Cardiff, Wales, who persuaded him to name the community, "Cardiff". Many streets in Cardiff bear names this English-born landowner grew up with in his native UK. The names of, "Birmingham", "Oxford", "Chesterfield" and "Manchester" are major streets in this city.
Cardiff-by-the-Sea is a classic Southern California beach town that boasts a moderate climate, breathtaking views, two miles of Pacific coastline with pristine beaches, a 900-acre ecological reserve, an oceanfront campground, world-class surfing and lovely residents who take pride in their community. Cardiff starts at the river mouth, flanked by San Elijo State Beach and Cardiff State Beach, and extends north to Swami's Point in Encinitas. This stretch of coastline offers wide open sandy beaches, gorgeous cliffs and great surfing.
Locals and tourists alike enjoy this charming, beautiful, friendly beach town with quaint shops, delicious cuisine, an arts community, yoga studios, ocean sports, parks, a walkable downtown area complete with a linear organic community park and plenty of biking opportunities. Cardiff-by-the-Sea thrives year-round and it's not unusual to find people sunbathing on the beach in January. At extreme low tide, the reef reveals itself with intriguing tide pools, where plants and sea creatures can be observed up close. Cardiff is also home to the Cardiff Kook – a surfer statue which has been much criticized as a parody of California's iconic sport.